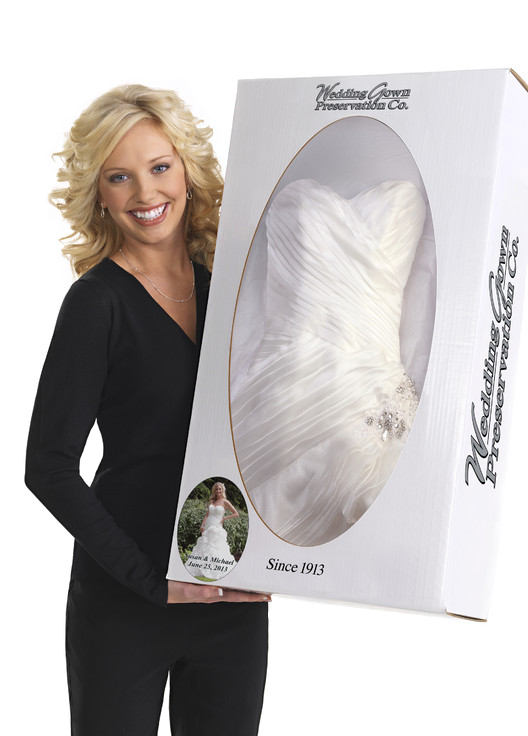 Personalization Options
We're excited to let you know that now we offer both text and photo personalization options for your Wedding Dress Preservation chest! The Wedding Gown Preservation Company has state-of-the-art printers that enable you to personalize your preservation chest with text, a photo of your choosing, or both a photo and personalized text.
The preservation chest will still be the same high quality, white or silver embossed preservation chest, only now you have the option to add your own personalization so you can always cherish the exact date and how beautiful you looked in your wedding dress that day. See details below.
3 Personalization Options
For Your
Wedding Dress Preservation Chest
Name & Wedding Date
When you place your order you'll have the option at check-out to personalize your wedding dress preservation chest by adding your name(s) and wedding date as shown above.
Photo
When you order this personalization option, you will receive instructions on how to include a wedding photo on a CD, flash or thumb drive, or upload your photo online.
Photo, Names and Wedding Date
Personalize your wedding dress preservation chest with a photo, your name(s), and your wedding date as shown above. 
Standard
Without personalization you'll still receive your professionally preserved wedding dress in a lovely white gloss (Traditional Line) or silver-tone (Celebrity Line) wedding dress preservation chest without any personalization options added.
How To Order Personalization
When placing an order online for either the Traditional Line Package or Celebrity Line Package, or our Restoration Packages, you will see a drop down menu for the personalization options at check out (see screenshot below). Simply select your preferred option and add it to your shopping cart. For your convenience, you can also add additional insurance at check out. Personalization instructions will be included in your complimentary shipping kit.
Screenshot of Options at Check-Out
For additional information on Wedding Dress Preservation Chest Personalization please read our 'Frequently Asked Questions' below.
Wedding Dress Preservation Personalizations FAQ
1. How do I get my personalization information to you?
Your complimentary shipping kit will include complete instructions of how to get your personalization information (Name, Date, or Photo) to us.
2. What are the maximum characters I can use on both lines of text?
Each of the two lines can have a maximum of 18 characters.
3. Can I use any message that I want to or does it have to be names and dates?
For now we are just offering to print your names and wedding date. We will print the text exactly as you provide it.
4. Can I choose the color of the personalized text and font style?
At this time we're only offering black as a color along with the font you see in the sample photos above. We offer black as it shows up the best against the embossed white display box.
5. What format must the picture be in?
Please provide the picture in Jpeg format. Complete instructions will be in your complimentary shipping kit.
6. Can I use any picture?
Yes! An engagement photo, honeymoon photo or any picture from your wedding day.
7. Can you use a photo off my social media page or photographers website?
Unfortunately not. We require you to either use the Wedding Gown Preservation's website to upload the photo or send the photo in on a disc or thumb drive with your wedding dress. This will ensure your photo will print in the highest quality possible.
8. Can I send in a black and white photo?
Yes. You must send the jpeg image in black and white. We can not convert a color photo for you.
9. What is the minimum size of the photo that should be sent in or upload?
Please send in photo file that is at least 540 X 360 pixels. The larger the file you provide us, the better the print quality.
10. Will I get a preview of how the photo will look before the dress is sent back to me?
No. If you have any special instructions please include those instructions on your personalization form.
11. Can I get my thumb drive back after you take my photo off of it?
Yes, we will send it back to you at no charge.