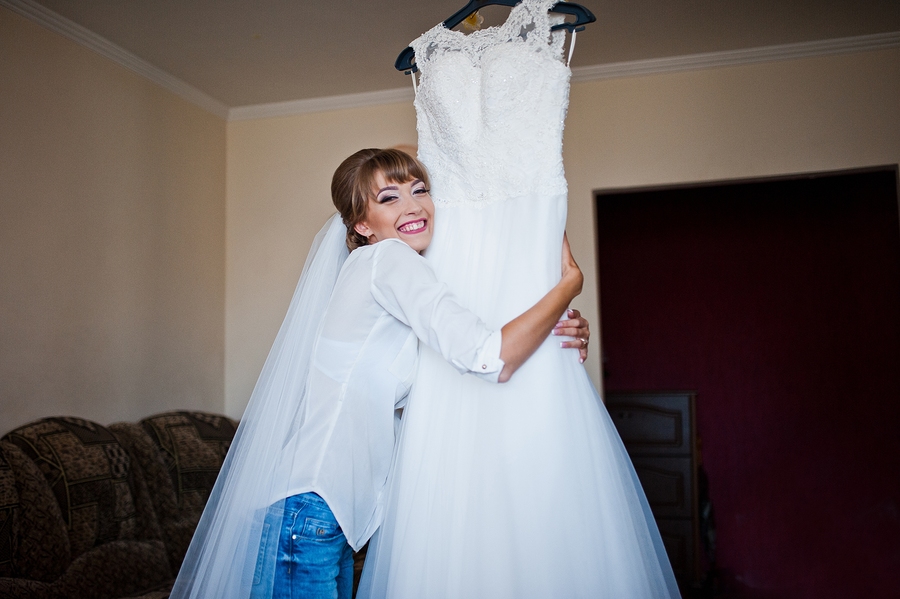 A wedding dress goes through a lot more than you might realize – before, during and even after the wedding day! From the day that perfect dress is found, your wedding dress's journey begins. Storing your wedding dress before the wedding, transporting the dress back and forth for alterations, pre-and post ceremony photos in places with grass and dirt, dancing away as the train gets dragged to and fro, spills of champagne, wine or cake frosting and, of course, all of the perspiring (or should we say 'glistening') that goes on the day of a wedding. One of the final and most important details you can expect to manage after your wedding is to have your wedding dress properly cleaned and stored. From the day you buy that perfect dress, there are several important things you should know to ensure the optimal care of your wedding dress before, during, and after the wedding.
Caring for Your Wedding Dress – Before, During, and After Your Wedding
1. Before the Wedding
It may not be obvious, but the care that is taken of a wedding dress before ever stepping foot into it is equally as important as the cleaning done afterwards. There are a some important things to be mindful about from the day a dress is taken home from the bridal shop, to the day it's worn on your special day!
Invest in a quality bridal garment bag made of fabric, rather than plastic which can cause the dress to yellow if stored for several months before your wedding.
Invest in an acid-free padded hanger.
If your dress is very heavy (beading, appliques, or bows) and consider hanging the bottom of your dress on an additional separate hanger so it doesn't stretch the top of your dress.
Keep your dress stored in a cool dry place like an an enclosed closet, instead of the back of a door.
Keep your pets away from your dress, especially cats with claws.
A couple of days before the wedding, open up your garment bag to let the dress fall naturally.
Have your dress steam pressed (vs ironed) to avoid burning the fabric or melting any appliqués.
If you purchase a used or sample wedding gown, consider having your wedding dress cleaned professionally before you wear it.
2. On Your Wedding Day
Although the last thing any bride should be thinking about the day of their wedding is what-not-to-spill on their beautiful dress, a wedding can be a 'dangerous' place for white dresses. Caring for a wedding dress can take a bit more planning than you might expect. Here are some tips to help you minimize stains and damage to your wedding dress during.
Wear clear-drying deodorant (and reapply throughout the day and night).
Try to avoid wearing red or bright colored lipstick.
Avoid red wine if possible. If you have red wine, ask your maid of honor to bring a stain remover stick or a small bottle of 'Wine Away'. Otherwise try club soda.
White chalk is also helpful for covering up any last minute stains. It's still a good idea to try to remove a stain as soon as possible, unless your dress is silk.
For silk wedding dresses, it's best to have a professional treat any stains.
Wear high enough heels so that the dress doesn't drag too much in the dirt or on the dance floor.
Pick up your train and carry it over your arm when it's not bustled to keep it from getting snagged and dirtier than it might get otherwise.
If you have a detachable train, you might want to remove the train after the ceremony.
If a button (or appliqué) falls off during your wedding, ask someone to try to find it and give it to a friend for safe keeping so it can be repaired with the same button.
3. After the Wedding
Now that the special day has come to pass, it's time to consider caring for your wedding dress for the future. Too many brides get a bit lazy about having their beautiful (and usually quite expensive) wedding dress cleaned and preserved. Here's what you need to know.
Ideally you should have your dress professionally cleaned and preserved within 1 month after your wedding. This will help to ensure stains do not settle into the dress fabric.
Keep your dress in a fabric garment bag (vs. plastic) at all times, or wrapped in a white cotton sheet, until you can have it cleaned and preserved.
Keep your dress away from intense heat or areas with moisture.
Dry cleaners are not wedding gown specialists and will usually send off your dress to a specialist. They also often use toxic chemicals.
Check the reputation of any company you are considering to clean and preserve your wedding dress.
For more tips and information, read our article on 'The Top 5 Things You Should Know About Wedding Dress Preservation'.
Whether you plan to sell your dress or plan to keep it for many years to come, wedding dress preservation is an option you'll definitely want to consider.
SaveSave