The Big Dilemma
You've probably spent weeks, maybe even months, looking for the perfect wedding dress for your big day. Even though you knew you'd only wear it once, you probably didn't give much through about what to do with your wedding dress after your wedding.  There are usually 2 camps – those who can't part with their dress and those who are ready to let it go. Here are some ideas on your options and some considerations for both.
But I Still Love My Wedding Dress!
If you're a person who can't stand the thought of parting with your dress after your wedding, then here are some ways you can keep the memories alive.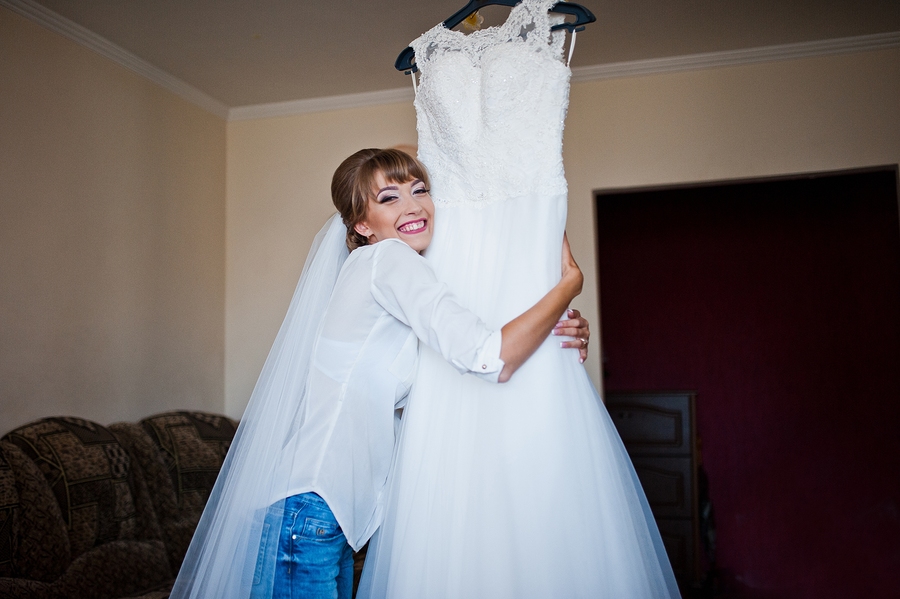 1. Clean and Preserve Your Wedding Dress
Even if you don't pass your dress down as an heirloom someday, you might still consider the benefits of wedding dress preservation.
If you don't clean your dress after you've worn it, it will likely turn yellow and fabric will begin to deteriorate.
Beware that invisible stains (perspiration, perfume, champagne) are not treated, they will surface as brown spots over time.
If you leave it hanging in the closet in a white or clear plastic garment bag, the plastic will off-gas and turn your dress yellow.
A reputable wedding dress preservation company will first professionally clean your wedding dress before they preserve it at no extra charge. They are pros at examining each dress under UV light to see initially invisible stains, such as preparation, perfume or champagne.
Professional wedding dress preservationists will place your dress in acid-free materials that will prevent it from yellowing. The preservation chest will protect it from insects, dirt, and household pets.
2. Personalize It
If you decide to have your dress professionally cleaned and preserved, you can also personalize the wedding dress preservation chest. Some companies offer the option to add your names and wedding date, and a photo, for a small charge. You can remember how you looked in the dress without pulling out your wedding album.
3. Display It In a Shadowbox
Are you someone who can't bare to just store away your cleaned and preserved wedding dress? You might consider replacing the lid with a wooden shadowbox frame. This way you can view it all the time when you have it displayed. You can even have one with LED lights so you can really see the dress in it's glory.
Ready to Let It Go?
Should you feel like your wedding dress has served its purpose, maybe it's time to let it go. Here are some more ideas to consider.
1. Sell It
While this may initially seem like a viable option, chances are most people will want to buy their dress from a bridal shop. The after market for used wedding dresses is usually disappointing unless you have an extremely popular style and are willing to sell it for much less than what you paid for it. This is one of the reasons you don't see many used wedding dress shops – there's very little demand or profit.
Assuming you have a popular style that is also current (within the last year), you might be successful at selling it online on sites such as Pre-Owned Wedding Dresses, Nearly Newlywed, or Still White.
2. Donate It
If you want to help someone through a charity, there are some wonderful organizations where you can donate your wedding dress. Some of these organization include Fairy Tale Brides, Brides Against Breast Cancer, and The Eve Foundation. You can make a difference in someone's life and clean out your closet.
3. Consign It
You might be able to consign your dress if a local consignment store accepts wedding gowns. Much like selling your dress, you will likely be disappointed if you expect to get top dollar for your dress.
4. Trash It
Although the 'Trash The Dress' trend was popular for a while, there are still some people that still can't wait to run into the ocean or a fountain in their wedding dress. It does make for some unique photos! Most dresses that get wet in the ocean, a swimming pool or a fountain can still be cleaned and preserved.
Final Thoughts
If you are still undecided about what to do with your wedding dress, at a minimum you should have it professionally cleaned by a reputable wedding dress preservation specialist. This way it is ready to be kept or parted with, and can prevent deterioration in the interim. Keep in mind that cleaning without preservation is not recommended for long term storage.